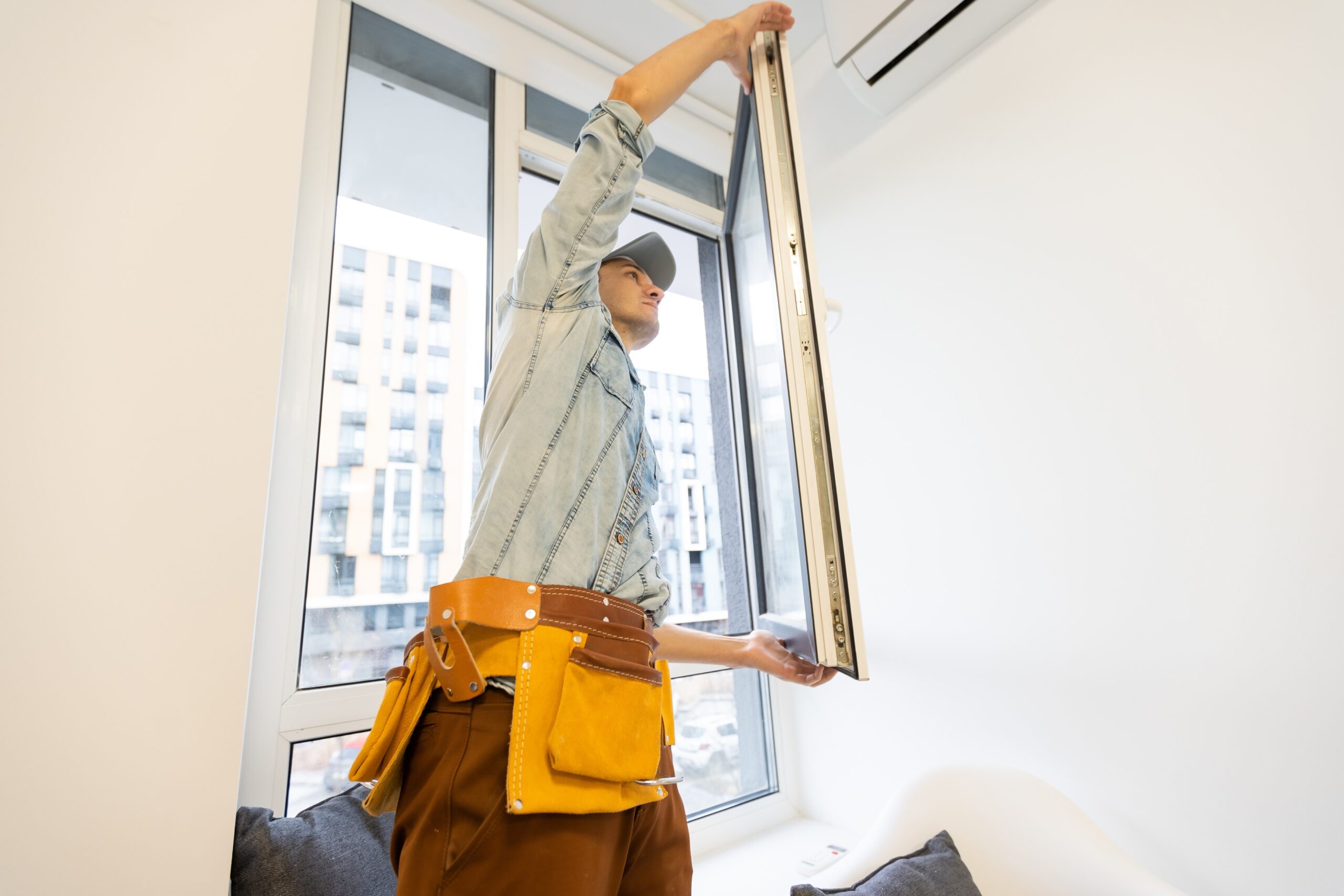 Are you fed up with drafty windows and droopy panes? It's time to get window installation in Columbia, MD and start living in comfort and peace. Whether you're looking for cozy glass frames for the winter or double panes to keep you comfortable all year round, Columbia Roofing Inc.'s professional installation services are there to be your guide. Keep reading to see a comprehensive breakdown of the options available for window installation in Columbia, MD and the surrounding areas, so you can start loving your windows and experience all the amazing benefits that come with professionally installed windows. Let's get started!
Quick Answer to Key Question
Columbia Roofing Inc. is a certified and insured window installation company that offers a wide range of services, including residential and commercial window installation, repair, and replacement.
Window Installation Services in Columbia MD
When deciding to install windows for your home or business, it's important to consider the services offered in Columbia, MD. Professional window installation can be a difficult process, involving many steps and making sure that the right safety measures are taken. By selecting a reliable installation service within the area, customers can rest assured knowing that their windows will be installed correctly and safely.

Our team of local window installers services Columbia, MD and has plenty of experience and knowledge in installing different makes and models of windows. In addition, they will also be able to recommend specific models to suit your needs. Furthermore, our team ensures all factory warranties remain intact for their work and products ensuring that customers are not stuck with faulty windows or faulty installation jobs.

On the other hand, there is always the possibility of hiring an inexperienced installer who does not have the necessary skills or knowledge to properly install your windows. This could lead to issues such as water leakage or poor insulation, something that should be avoided at all costs. It is always best to seek out a highly rated company with positive reviews and awards when considering window installations in Columbia, MD.

Windows need to be installed correctly in order to ensure their longevity and performance over time, which is why finding the right window installation services is essential. While experienced installers offer numerous benefits to customers, it's also important to remember that quality products are just as essential for optimal performance. With this in mind, let's take a look at some of the types of windows available today and how they could fit into your home or business environment.
●       According to the Homeowners Alliance, it is estimated that installing windows with an ENERGY STAR rating can save homeowners on average up to $465 annually in energy costs.
What Types Of Windows Are Available?
When considering window installation services in Columbia, MD, it is important to understand the different types of windows that are available for your property. From traditional single-hung windows to custom bay windows, a variety of designs exist that can improve the appearance of your home while also providing numerous benefits in terms of energy efficiency and noise reduction. Choosing the right option for your needs will depend on what you are looking to accomplish with each window install.

Single-hung windows, as well as their counterpart, double-hung windows, are popular among homeowners due to their classic look and ease of use. Single-hung windows only open from the bottom, whereas double-hung allow opening from both the top and bottom. These options provide excellent insulation and can be ordered in many styles and colors. Other options include sliding windows which often come equipped with low-emittance (low-E) glass for optimal energy savings results. Bay windows lend a more dramatic effect to properties by sticking out slightly from the exterior walls and by allow more light into the interior rooms. In other cases, casement or awning windows may be installed in hard to reach areas, such as above kitchen sinks.

Finally, for those searching for something truly unique, there are always custom made options available including round arch tops, eyebrow arches and trapezoids styles. No matter your choice, it is essential you perform research prior so that you know just what type of window will work best for you and your needs in order to get the most out of your investment today.

Now that you have a general understanding of the types of windows available when considering professional installation services in Columbia MD, let's take a look at some tips on finding a reliable contractor who can help with your project.
Tips for Finding a Reliable Contractor in Columbia MD
When looking for a reliable contractor in Columbia, MD to install your windows, there are several key tips you should keep in mind. Firstly, you'll want to be sure that the contractor you select has a proper license and has fulfilled all necessary requirements to legally do business in the area. Verifying licensing information upfront is one of the most important steps in ensuring that you find a reliable contractor. Our license number is in the footer on our site and available upon request to anyone.

You may also want to look into a contractor's background and track record. Check online reviews and other sources of feedback from their past clients to find out what their experiences were like with the contractor. If there are overwhelmingly positive reviews, then that might be a good indication that the contractor provides quality installation services. By contrast, if there are more negative reviews than positive ones, it could be an indication that they don't provide reliable services. Columbia Roofing Inc. strives to earn a 5-star rating on every window installation project that we complete.

Another tip is to select a contractor who uses high-quality products when installing windows. Better materials often lead to better results, so by selecting a contractor who uses top-of-the-line products, you can increase your chances of being satisfied with the work performed. Columbia Roofing Inc (CRI) Uses ProVia®. We respect your home and your family and so we use a product that was developed to hold a competitive position by catering to a niche market that demands a high degree of customization coupled with superior quality. You will find attention to detail is what our customers have come to appreciate and expect from us…that's The Professional Way.

Finally, before selecting a contractor, you should make sure to ask them questions about pricing and timing. What will be the total cost of installation? What kind of timeline can they commit to finishing the job? Answers to these questions can help you decide between different contractors as well as make sure that any expectations you have regarding pricing and timeline are met upon completion of the job.

By following these tips when searching for a window installation contractor in Maryland, you can greatly decrease your chances of experiencing unpleasant surprises during or after construction is completed. As mentioned above, use of high-quality supplies along with staying mindful of licensing information, feedback from previous clients and details concerning pricing and timelines will help give you peace of mind as you embark on your window installation project. For even more protection, it's recommended that you make a detailed checklist when interviewing potential contractors so you can compare all factors side by side when making your final decision.
Use a Checklist When Looking for a Contractor
When it comes to finding a reliable contractor in Columbia, MD for window installation, using a checklist is an essential tool that should not be neglected. A solid checklist will help you systematically evaluate all potential candidates, allowing you to prioritize key aspects such as experience, professionalism and customer satisfaction. One great piece of advice is to understand exactly what you need and then break that down into various elements you would like the contractor to have, such as knowledge of energy-efficient windows and which models they specialize in. Or perhaps do they have an awesome dog mascot or have they been serving the Columbia area for over 40 years?

It's also important to ask the contractor lots of questions, such as: How many years of experience do they have? Are they registered with a professional body? Do they carry insurance? Which specific materials and brands do they work with? Are their prices negotiable? Additionally, take a look at samples of previous projects they have completed; this can be extremely helpful to get an idea of their caliber of work.

Finally, don't forget to check customer reviews both on their website and third party platforms for further insights about the contractor's quality of service. Utilizing a thorough checklist based on all the relevant factors above will make it easier to identify the most suitable contractor from those available in your area. This in turn will offer peace-of-mind knowing your window installation project is being handled by professionals who take pride in their craftsmanship. As a result, when budgeting for home improvement projects it's vital you know what type of work needs doing, taking into account professional installation services within your allocated budget.
Budgeting for Home Improvement Projects
When creating a budget for home improvements, it's important to weigh the pros and cons to determine which projects are worth your hard-earned money. On one hand, some projects such as window installation can add much-needed value and curb appeal to your property. On the other hand, it can be difficult to determine how much to budget for these projects. When considering window installation in Columbia, MD, it's important to research if the average cost of similar homes in the area have increased after having them installed. Knowing this beforehand can help you make an informed decision regarding what you should budget. Our team has seen home values increase substantially after the installation of our windows.

Ultimately, it's important to remember that while home improvement projects can add value to your home and provide more comfort, they shouldn't take away from practical everyday needs. Create a plan that works best for you and your loved ones rather than simply trying to impress prospective buyers who may not even end up making a purchase.

Having said that, including window installation in your budget should still be considered carefully, as this is one of those projects that can easily make or break an otherwise beautiful building. Before committing to any major renovations, it is crucial that you look into the contractor's credentials and see if they are licensed and experienced enough for the task at hand. Once you get comfortable with a professional contractor and review their proposal, you'll be better prepared to decide if investing in window installation is right for your home.

With all of this being said, when budgeting for home improvements its paramount that you focus on getting quality materials while also hiring reliable contractors capable of providing excellent services – like you would when looking into window installation in Columbia, MD. Making smart decisions now will ensure that you get solid results while avoiding future headaches due to poor craftsmanship. Now that we have discussed budgeting for home improvement projects let's discuss how including window installation in your next renovation project can benefit you and your family.
Including Window Installation in Your Budget
When budgeting for any home improvement project, it is important to consider the cost of window installation. Although there is an initial cost for the materials, installation can help ensure that the windows are properly installed and functioning efficiently. The return on investment through energy savings and increased curb appeal can often justify the investment in proper window installation.

Some homeowners attempt to install windows themselves, which has several drawbacks. First and foremost, a professional installer will have the training and experience necessary to ensure the windows are properly installed. Poorly-installed windows may not provide the energy efficiency you desire or be aesthetically-pleasing. Also, those who don't possess specific skills, experience and tools should refrain from attempting such projects as doing so could result in costly mistakes or injury.

Although the cost of window installation may initially seem like an additional expense, it can save you money in the long run by providing energy efficiency and increasing your property value. It is important to weigh all factors before deciding whether or not to include window installation in your budget.

In many cases, proper window installation is an essential step toward achieving these goals. When handled correctly, it can make your home more attractive, efficient and valuable for years to come. When you take into account all of these benefits, window installation is likely worth considering when budgeting for any home improvement project.

Now that we have discussed budgeting for window installation services, let's move onto understanding what the window installation process entails.
The Window Installation Process
When considering how to budget for window installation in Columbia, MD, there are two paths you can take- hire a professional or attempt it on your own. Both options come with their own unique set of considerations, so it is important to weigh the pros and cons before making any decisions.

DIY enthusiasts may be enticed by low upfront costs and bragging rights, but there are certain risks that come with performing the installation yourself. Poorly installed windows can lead to a number of issues such as air leakage, interior water damage, incorrect gaps between frames and sills and warped frames. Without adequate knowledge of building codes and existing industry standards, installing windows on your own can quickly turn into a costly venture.

Professional window installation services offer a more expensive initial cost but allow you to rest easy by assuring quality workmanship. Professional contractors are trained in a variety of areas related to the installation process including product selection, proper fit and finish, safety regulations, insulation standards and building code compliance. Professionals have access to materials necessary for proper sealing which can improve energy efficiency as well as reduce air leakage from the exterior of your home. Additionally, depending on your area and contractor chosen, some warranty coverage may be available should any issues occur after installation.

Now that considerations for budgeting for window installation have been discussed, it's time to focus on another key aspect- measurements and details to consider prior to taking any action. As detailed measurements play an integral role in successful window installations, having up-to-date information regarding size and placement is essential when factoring in total cost and time requirements.
Measurements and Details to Consider
Once the installation process has begun, measure twice, cut once! Measurements are an essential part of ensuring a successful window installation in Columbia, MD. Beforehand, it's important to inspect the current window opening to make sure it is properly insulated and framed. Measure the width from side to side and the height from top to bottom at least three times before proceeding—this small step will help save time and money in the long run.

In addition to measurements, there are other details that must be taken into account when installing a new window such as ventilation and drainage. Adequate ventilation should be checked for by using an air flow meter; proper drainage should be ensured with moisture barriers—both of these measures will help protect your home from potential water damage.

Ultimately, having your windows professionally installed is beneficial for both convenience and safety. Taking care to measure with precision, consider relevant details such as ventilation and drainage, and opting for quality materials will ensure a smooth installation that provides years of protection and satisfaction. With that in mind, it's now time to complete the process by securing the final touches on your windows.
Measurements are essential for successful window installation in Columbia, MD. Beforehand, inspect the current window opening to make sure it is properly insulated and framed. Measure the width from side to side and height from top to bottom at least three times before proceeding to save time and money. In addition to measurements, pay attention to details such as ventilation and drainage with an air flow meter and moisture barriers to protect the home from potential water damage. Finally, use quality materials and secure the final touches on your windows for a smooth installation.
Securing the Final Touches on Your Windows
Once you have all the measurements and details of your window installation sorted out, it's time to secure the final touches on your windows. This is an important step that should not be overlooked, as it ensures a secure fit and seals the windows from external elements like dust and moisture. You might consider some of the following options when finishing off your window installation:

1) Caulking – Caulk is a type of sealant often used to fill in spaces between two surfaces, such as walls and windows, where air and moisture can get in. It is an inexpensive yet highly effective option for sealing gaps around windows. Applying caulk will also improve their energy efficiency and prevent drafts.

2) Weatherstripping – Weatherstripping is designed to help seal windows and doorframes from any outside force or damaging weather conditions. It provides an extra layer of protection against the elements while allowing doors and windows to open and close smoothly. Additionally, it prevents cold air from entering the room, making it a cost-efficient solution for maintaining consistent temperatures within your home.

3) Storm Windows – If you live in an area that's prone to severe weather conditions, then investing in storm windows is another great way to ensure your window installation remains secure. Storm windows are made from specialized glass and material that can withstand very high winds, rain, Snowing and hail. They provide extra reinforcement in these extreme weather conditions.

Debate Contention:

When deciding whether or not to invest in storm windows for added security against harsh weather conditions, homeowners may need to debate the pros and cons of this decision. On one hand, storm windows do offer added protection against strong winds and precipitation due to their reinforced glass and materials. However, they may also impose additional costs due to their expense compared to traditional replacement or repair Windows. The benefits of storm windows should be weighed carefully before making a decision about what kind of windows will best suit a home's particular needs.

Evidence Supporting Storm Windows:

Storm protection measures are proven necessary in areas prone to extreme weather events such as hurricanes, tornadoes and blizzards. Additionally, researchers have established that when storms strike homes with storm windows intact there is a much higher chance that significant damage won't occur compared with homes equipped with standard replacement or repair Windows. For example, scientists at Virginia Tech found that almost 70% of homes with storm windows successfully stood up against winds from Hurricane Isabel — whereas only 8% of unprotected homes survived the same storm unscathed (Virginia Tech Magazine).
The cost of window installation in Columbia, MD can vary depending on the type and size of windows being installed, as well as the complexity of the job. Generally speaking, installation for one window typically starts at around $200-$500. This can increase to over $1,000 for more complex window installations. It is important to get quotes from multiple window installers to find the best price for your project.
Contact us to schedule a convenient appointment time for our Qualified Sales Team to visit your property
Don't Hesitate To Contact Us If You Have Any Questions
Contact Us to schedule a convenient appointment time for our Qualified Sales Team to visit your property